Dec 10, 2011 Marysville, PA - (Photos will be added over the next couple of days)
The CRHS is proud to announce that the acquisition of our newest piece of equipment is complete. Today, we added Conrail 715788 to our collection. This car is an F41D class car and is a cast steel flat car built in the 1950s for the Pennsylvania Railroad. The car then became part of Penn Central and Conrail.
Video Courtesy of CRHS Member Ryan Thoman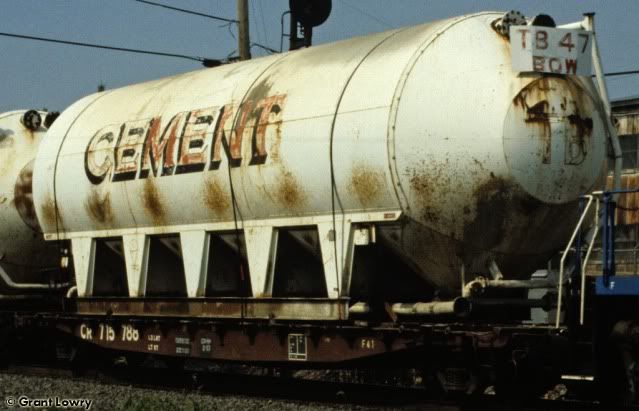 (Our car in service, photos by Grant Lowry)
In 2001, the car was sold to the B&O Railroad Museum along with 4 others and converted into open passenger cars for use during their "Steam Days" and Day Out With Thomas" events.
Earlier this fall, CRHS Members Kevin Yutz, Sean McDonnell, Russ Swinnerton, Brock Kerchner, Ben Snyder, Ed Kapuscinski, Brian Alesin, Tristan Ashcroft, and Harry, Doreen and Donnie Lee removed the passenger hauling super-structure from the car. This was done in one day and completely filled a 30 yard dumpster.  
(Brock surveys the roof removal)
(Ben Snyder and Harry Lee look on as Tristan Ashcroft saws lumber)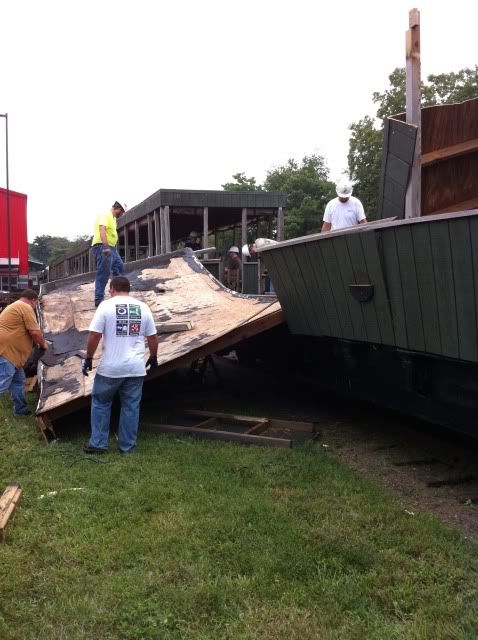 (The crew working to remove the roof.)
Once the car was ready to go, a plan was put in place to move the car. To save money, heavy duty auto wreckers were used in Baltimore. We used Ted's Towing, who sent out a pair of 60 ton trucks. These trucks are designed to clean up tractor-trailer accidents, but were able to lift the flat car up high enough to load onto a flatbed truck. The car was loaded on Friday, Dec 9th and is shown in the pictures below.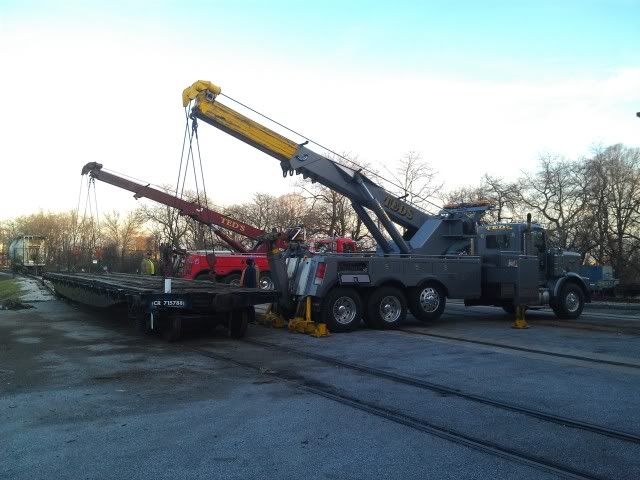 (Ted's wreckers backed into position and cabled up to the car)
(The wreckers lift the car as rigger Will Shortall and CRHS President Russ Swinnerton supervise)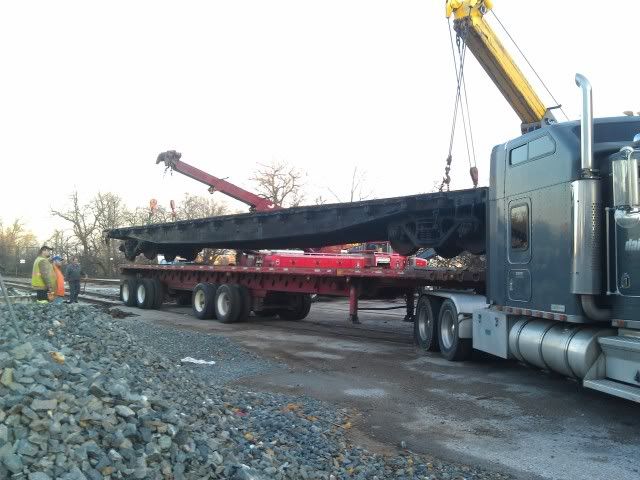 (Our driver backs the special trailer under the flat car)
The trucking was accomplished by Daily Express of Carlisle, PA. Daily is the same company who helped us with the camp car move, and have proved to be a very respectable partner in the preservation of our equipment. On Saturday the 10th, the car moved out promptly at 7am from Baltimore and headed up Interstates 695 and 83 from Baltimore through York to Harrisburg and finally Middletown. Once there, a crane from Greiner Steel set up and proceeded to unload the car. This was completed just after lunch. With the car now on the rails, we coupled it up to the M&H's Western Maryland S6, number 151, and put air to it. Surprisingly, the air system worked perfectly, even though it hadn't had air in it for almost 6 years. The car was taken out to the M&H's interchange track and switched around along with the CR 21165 for the push back to Middletown Yard.
It's great to know that another piece of Conrail history has been saved by the CRHS and we now have something new to show for our continued efforts. We are not done, however. The car is currently painted black and needs deck work. The current deck is rough oak wood, but is rotting in several places. This will need to be replaced and while we're at it, the car should be painted back into it's Conrail paint scheme. This is going to require planning and organization, and the Board has selected Donnie Lee to be the project manager for this car. Donnie is one of the youngest active members and we feel that with some guidance, Donnie can be a bigger asset to us, and to the preservation community. We also believe that it's important to get the younger generation involved and active as so many teens these days spend all day infront of their computers or game consoles.
(Project Manager Donnie Lee surveys the now denuded deck of the car as former CR GG1 4876 looks silently on)
There are several people to thank who made the acquisition of this car possible. A big thanks goes to the Chief Curator of the B&O Museum for his work to ensure that this piece of Conrail History didn't become a scrap pile. Thanks also goes to our movers at Ted's Towing, Shortall Rigging, Daily Express, and Greiner Steel.  Special thanks goes to those members who have given their time and money to make this acquisition happen. Without the support of out members, we would never be able to make sure things like the CR 715788 were preserved to tell the story of Conrail to future generations.
-Russ Swinnerton, CRHS President